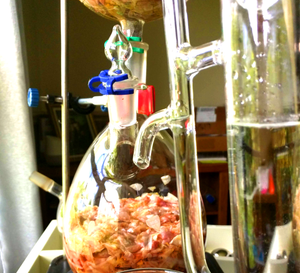 Essential Oils: Santo Products 1.0 oz
Essential Oils.
 We hear this word more frequent in these times "Essential Ols"  When a person begins research on the subject it begins to unfold to a few subjects. For one, not all essential oils are extracted equally. some are distilled using steam and the others are made through a chemical process referred to Solvents extracts.  We see this in Rose oil.  Because Rose petals have very like oils it take tons per pound to distill a few oz or pounds, this makes this as a few others very expensive.  The answer they have come up with is to dilute the oil in a carrier or mineral oil.  The truth is if an essential oil is extracted via solvents it no longer is therapeutic. it mere fragrance oil.  we see this with Rose, Jasmine, Vetiver, and a few others.  What occurs when its adultered it loses its healing benefits.  In some scientific studies, I have read, in the case of vetiver, an essential chemical compound that kills tuberculosis is destroyed.   When purchasing an essential oil I state this "Know the source" or if shopping at a health food store look for the word "Therapeutic" You will notice the price difference and ask Why the hick in price.  These oils have been treated in the correct conditions of extractions as we see in steam distillation or a low long term heat exposure. 
Why use essential oils
In general, essential oil is the concentration of the plants' essence which we call oil.  If you wish to heal a wound or create holistic soaps or lotions essential oils are the way to go.  
Order your custom Hydrosol made using flowers, herbs, and vibrations to achieve maximum success.  
Use and Cautions
Essential oils are something to take seriously.  Misuse can lead to injury.  Some essential oils have irritation effects when not diluted as we have in Cinnamon bark, Lemon Grass, Bay Rums.  Our oils, in general, are Pure! A little goes a long way. Testing is a good practice with any Essential oil for skin irritations.  Cinnamon oil can Burn you 2-3 layers of skin off, if not diluted.
Options to dilute your essential oil.  You can use, Mineral oils or vegetable quality oils like Sweet Almond.